Pearl Bank Apartments, the iconic horseshoe-shaped building at Outram, is attempting a collective sale for the fourth time.
SINGAPORE: Pearl Bank Apartments, the iconic horseshoe-shaped building at Outram, is attempting a collective sale for the fourth time.
An extraordinary general meeting was held on Saturday (Jul 8), during which Colliers International was appointed marketing agent, and Lee and Lee as the law firm for the en-bloc process.
Channel NewsAsia has learnt that a reserve price of S$728 million has been set for the building, which has 280 residential units and eight commercial units.
The size of residential units varies from 1,324 sq ft to 3,993 sq ft, and each homeowner will stand to receive an average of S$2.6 million if an en-bloc sale goes through.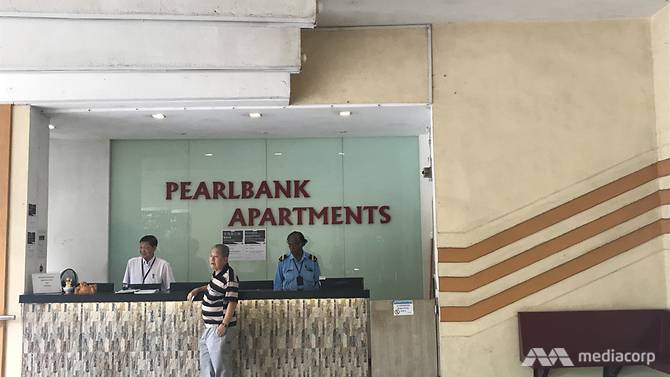 Pearl Bank Apartments is making its fourth attempt at a collective sale.
Built in 1976, the 99-year leasehold Pearl Bank Apartments is one of the oldest private residential buildings in Singapore. It has 52 years left on its lease because its tenure started in 1970.
The property has a site area of 82,376 sq ft, with a 7.2 plot ratio.
It was put up for en-bloc sale three times – in 2007, 2008 and 2011 – but there were no takers. In 2015, there were efforts to get it gazetted as a conserved building, but the attempt failed as the liaison committee did not get 100 per cent agreement for conservation from owners.
For the development to go on the market, the en-bloc committee now has to work with Colliers and Lee and Lee to get 80 per cent of homeowners to agree to the collective sale.
They have up to one year to do so, although they hope to collect the required signatures within this quarter and to launch the tender by the fourth quarter of 2017, said Mr Alex Poh, chairman of the 12-member en-bloc committee.
"It's all about timing," Mr Poh added. "The earlier the better, and it fits the market trend right now."
Analysts have said the residential collective sales market is poised to pick up, as private home sales have stabilised and there is strong demand for land by developers.
In May, former HUDC estate Rio Casa was sold for S$575 million in an en-bloc deal and last month, another HUDC estate Serangoon Ville was put up for collective sale.
Mr Poh said he initiated the en-bloc process because the Pearl Bank Apartments building is getting harder and more expensive to maintain due to its age. He approached a few residents last December to form the committee with him.
"It is also the next-best option to getting Pearl Bank conserved, since the last time it required all residents to agree to conserve the building, and we weren't able to do that," Mr Poh added.
"But in this case, the developer might choose to conserve it if the authorities approve."
Iconic Pearl Bank Apartments sold for $728m to CapitaLand

CAPITALAND UNVEILS DESIGN OF ONE PEARL BANK IN SINGAPORE'S PRIME OUTRAM-CHINATOWN DISTRICT

Related Story

Source: CNA/nc