ONE PEARL BANK – THE BACKGROUND OF THE LAND
SINGAPORE – The landmark horse-shoe shaped Pearl Bank Apartments near Outram Park MRT station will be torn down for redevelopment after it was sold to CapitaLand in a S$728 million collective sale.
CapitaLand said that the acquisition – which matched the owners' reserve price – was through a private treaty collective sale. With an additional lease top-up premium estimated at S$201.4 million, the sale price translates to a land price of about S$1,515 per sq ft per gross floor area.
In a news release, CapitaLand said it plans to redevelop the site into a 800 units of high-rise residential development comprising about 800 units with a host of "social, shared facilities which will foster community spirit and celebrate the area's unique heritage".
"Our upcoming residential development offers a rare opportunity for young urbanites to own a home in a mature estate brimming with local culture and heritage," said Mr Ronald Tay, CapitaLand Singapore's chief executive officer.
"Targeted for completion by early 2023, right after the opening of the third MRT line in Outram, the Thomson-East Coast line, the commute from the development to Shenton Way, Marina Bay and Orchard will be even more convenient for residents," he added.
THE CONNECTIVITY
One Pearl Bank is located within the prime central area of Singapore, at Outram-Chinatown District. It is just 3 minutes walk to Outram Park MRT Interchange (East-West Line, North-East Line and the upcoming Thomson-East Coast Line) via sheltered walkway. One Pearl Bank is close to several major commercial nodes including Tanjong Pagar, Chinatown, Raffles Place, Marina Bay, Orchard and more.
Enjoy easy access to major expressways such as the Central Expressway and Ayer Rajah Expressway. One Pearl Bank is also near amenities like Tiong Bahru Market, Great World City and Robertson Quay. Being directly linked to Pearl's Hill City Park, One Pearl Bank is within short walking distance to Singapore General Hospital, which is set to undergone total transformation
THE AMENITIES
Located in the vibrant district 3, One Pearl Bank is surrounded by plenty of amenities. The nearest hangout place will be Tiong Bahru Area. A perennial fave, this Tiong Bahru neighbourhood guide has everything you need for cool cafes, stores and restos. Exuding old-school charm and home to one of the oldest housing estates, time stands still at the quiet streets of this hip heritage neighbourhood. Don't be mistaken by its quaint demeanour though – you'll find some of the island's best cafes, restaurants, stores and pretty street art right here. We point you in the right direction with our guide to Tiong Bahru
The various bars in the region mean that there is something for everybody. The Tiong Bahru is considered to be the 'hip' part of Singapore, offering an eclectic mix of traditional architecture with an ever-growing selection of bars to grab a cocktail, enjoy live music and make new friends.
One Pearl Bank is Ideal for Family Living
With District 3 looking to become a residential hub as well, there is no shortage of high quality educational facilities, children-friendly activities and recreational centres in the area. This combination makes the One Pearl Bank condo an attractive choice for families or couples that are thinking about having children in the near future.
Schools Near One Pearl Bank
There are extensive education options for students of all levels located just a short distance away from One Pearl Bank. The convenience of the development means that parents can save time and effort in taking their children to school each day.
The schools within walking distance of One Pearl Bank include:
For parents with very young children, there are many pre-schools and daycare centres near One Pearl Bank. This means that they can easily drop-off and pick-up their children before and after work when necessary, especially if headed into the CBD.
Family Areas near One Pearl Bank
While professionals will love One Pearl Bank's closeness to the Central Business District, parents will also love having so many things to do with their family in their downtime.
The One Pearl Bank development is surrounded by several community centres, which all offer all sorts of exciting activities for children of all ages. The Tanjong Pagar Community Centre, Queenstown Community Centre, King Seng Community Centre and Kreta Ayer Community Centre are perfect for sports, community functions and all other recreational activities that keep kids active and engaged.
For families that prefer the outdoors, Ann Siang Hill Park is a great green space that offers peace, tranquility and nature whenever you want an escape from the city life. Telok Ayer Green also provides an excellent walking trail that gets the family outside, active and allows them to enjoy a picturesque view of Singapore.
One Pearl Bank is located just five minutes away from the Chinatown Heritage Centre, which offers an extensive history of Chinese immigration into Singapore. With a spectacular museum and a beautiful design, it is a enjoyable and educational family activity.
One Pearl Bank is Close to Health Care Facilities
Families that include young children and elderly parents will appreciate the fact that the One Pearl
Bank development provides easy access to some of the best health care facilities in Singapore.
Singapore General Hospital is under 10 minutes away, while Alexandra Hospital and the National Heart Centre Singapore are also closeby. Accessible quickly by driving or the exceptional public transit, living at One Pearl Bank makes it easier than ever to receive premium health care.
SGH Campus Master Plan anticipates the healthcare needs

Related Story
One Pearl Bank is Close to Singapore's Shopping Centres
Singapore boasts some of the world's top shopping and entertainment centres surrounding the city core and the One Pearl Bank condo will offer residents unlimited access to them! Those living in the One Pearl Road will never be short of things to do, having an incredible array of shopping, supermarket, boutiques and entertainment options to choose from, just a short walk outside their door!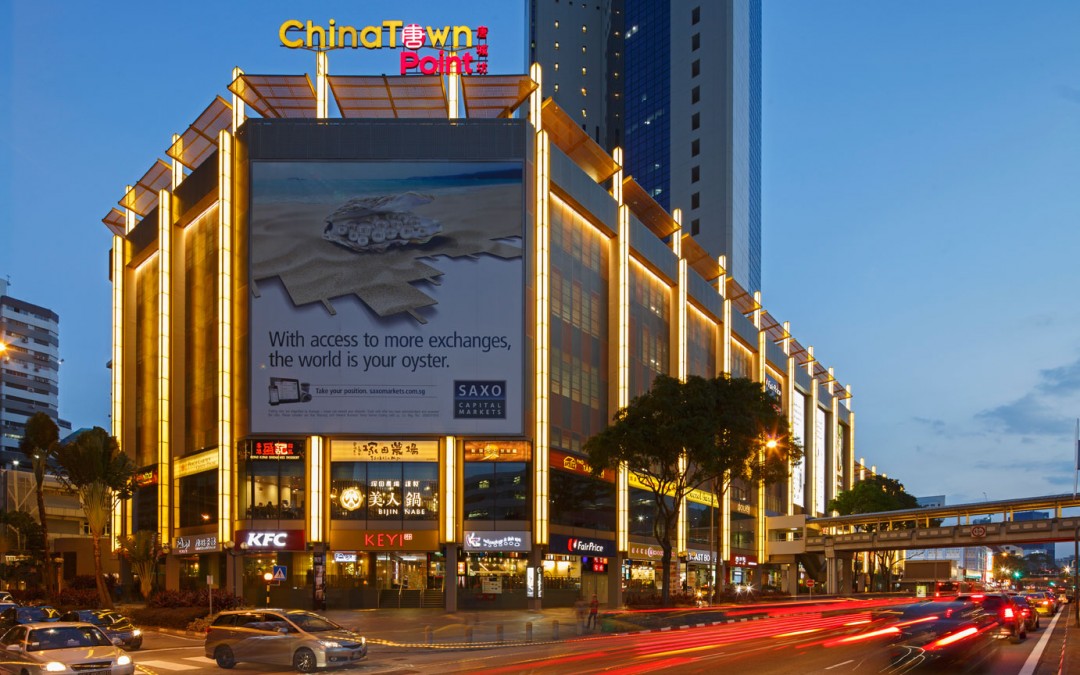 One of the best shopping mall IN 10 MINS WALKING DISTANCE – CHINATOWN POINT
Chinatown Point is located in the heart of Chinatown within Singapore's Central Business District.
The building is a 25-storey commercial development with an office block and a 6—storey retail mall. Chinatown Point is prominently placed near heritage spots, hotels, offices and residential flats. It is also highly accessible, with direct connectivity via a basement link to the Mass Rapid Transit (MRT) Chinatown Interchange Station, which serves both North-East and Downtown lines. Due to this, it is an attractive destination for locals, nearby office workers and tourists.
Chinatown Point boasts over 220 speciality shops and F&B outlets to suit all your needs. This includes a supermarket, lifestyle shops, travel agencies as well as the National Library Board's first Chinese Arts and Culture themed public library.
Diners will be spoilt for choice with a diverse mix of options, from traditional bakeries to family-friendly restaurants and affordable eateries. A wide selection of grab & go outlets are also available for shoppers who need a quick bite.
A MEGA SCALE SHOPPING MALL BY 1 MRT RIDE AWAY – VIVOCITY
One Pearl Bank is only 1 MRT ride away to reach Vivocity Shopping Mall & HarbourFront Centre. This bustling waterfront district is a regular stomping ground of beach lovers and shopaholics alike.
Located along Singapore's southern coast, HarbourFront is one of Singapore's many gateways to the sea. Visitors to the neighbourhood include vacationers embarking on sea-bound getaways, beach lovers heading to the sunny island of Sentosa and locals engaging in a bout of retail therapy.
The hustle and bustle of this lively district centres around VivoCity—Singapore's largest shopping mall—the interconnected HarbourFront Centre, which houses retail stores and the Singapore Cruise Centre, with cruises and ferries departing for islands like Batam.
With over 300 luxury and household brands spread across 140,000 square metres, it's no wonder
that Vivocity was named one of Singapore's five best shopping malls by Forbes in 2016.
Notable fashion labels that have set up shop in this retail paradise include MUJI, Tommy Hilfiger, Aesop and Zara, making it a great destination for fashionistas looking to spruce up their wardrobes. If you're looking for local craftsmanship, drop by Chomel, which sells a sparkling range of jewellery.
To browse an enormous selection of wares—ranging from local snacks and souvenirs to fragrances—pay a visit to TANGS. One of Singapore's most beloved shopping emporiums, this retail giant is known for stocking an extensive variety of local and international brands.
Endless fun for the family.
Visitors planning a movie outing with their little ones should pay a visit to Golden Village VivoCity, Singapore's largest cinema multiplex. The largest of its 15 halls—dubbed GVMax ® —is decked out in state-of-the-art projection technology, and boasts the widest screen in Asia.
Other activities include the Sky Park—with dedicated water play areas for the little ones—and TimeZone. The latter is Singapore's biggest video game arcade and features a plethora of activities including bumper car rides, mini-bowling and old-school carnival games.
To unwind while basking in a gorgeous sea view, take a stroll along the Sentosa Boardwalk. Bazaars are held along this 670-metre stretch nearly every weekend, making it a great place to browse for gifts and souvenirs.
VivoCity is an iconic retail, entertainment & lifestyle destination that constantly surprises and stimulates visitors with its vibrant mix of retail and entertainment concepts.
It features wide, open spaces for waterfront relaxation and entertainment, and a full calendar of exciting festivals and events that will draw both locals and foreign visitors.
THE JUVENATION OF PEARL HILL CITY PARK & DEVELOPMENT OF GREATER SOUTHERN WATERFRONT.
The URA is rejuvenating Pearl Hill Park. Besides turning it into a spot for family and cultural bonding, it will eventually be linked to Fort Canning Park and the Singapore River. Imagine the value that this can boost the property value in the next few years.
One Pearl Bank is directly linked to Pearl's Hill City Park via a landscape path. That may not seem like a big deal right now, but it will be.
Next to it, there are couple more plots of land as well as white site for future development. And we all know that land is going to cost even more expensive over the years. One Pearl Bank will definitely have room for appreciation then.
The future tenant pool within the area is expected to grow, given the abundant amenities and prime location, which means proximity to Grade-A offices and the upcoming Singapore General Hospital Campus, Singapore's largest medical campus.
Future residents and tenants will enjoy close proximity to key areas designated for redevelopment in the URA Master Plan 2019. The downtown area will see more public spaces, while the Greater Southern Waterfront, stretching 30km from Pasir Panjang to Gardens by the Bay (East), would also undergo rejuvenation, with the addition of residential and commercial properties. There may even be a theme park similar to Universal Studios Singapore on Pulau Brani.
The future of One Pearl Bank can be brighter for sure!!
CapitaLand unveils design of One Pearl Bank in Singapore's prime Outram-Chinatown district

Iconic Pearl Bank Apartments sold for $728m to CapitaLand

Related Story
One Pearl Bank Showflat Virtual Tour
Updated on 15 May 2020.